Activeer gratis jouw eigen Garantiemakelaars Homestats account en blijf realtime op de hoogte van de waarde van jouw woning
We begrijpen dat je in de huidige markt veel vragen kunt hebben omtrent jouw woning. Wat is de huidige waarde van je woning? Wat zijn de prijsontwikkelingen in de buurt? Welke recente transacties hebben er plaatsgevonden in de buurt? Of wat is je woning waard over een aantal maanden? Omdat de markt continu in beweging is brengt onze nieuwste tool al deze vragen voor jouw woning inzichtelijk in een eigen woningportaal en update hij deze informatie realtime. Zo kan jij op ieder moment inzien hoe jouw woning zich ontwikkelt in de markt!
Binnen jouw eigen omgeving krijg je updates over:
Actuele waarde indicatie van jouw woning
Updates over prijsontwikkelingen van jouw woning
De meest recente transacties van jouw buurt
Gemiddelde woningwaardes in jouw wijk
Interessante statistieken over de samenstelling van jouw buurt
Bekijk hier een demo van de Homestats omgeving:
Hoe kun je jouw Garantiemakelaars Homestats account activeren?
Activeren van jouw Homestats account kan middels bovenstaande knop. Volg de instructies om jouw woning te verifiëren en het account in te stellen. Zodra je jouw account hebt bevestigd via de mail, kun je te allen tijde inloggen om de actuele waarde indicatie van jouw woning te bekijken en toegang te krijgen tot de nieuwste statistieken. Daarnaast krijg je per kwartaal een update via de mail.
Wil je meer informatie over de woningwaarde, hoe de waarde van jouw woning bepaald is, hoe je de waarde van jouw woning kan verhogen en wat het verschil is tussen de marktwaarde en WOZ-waarde van jouw woning? Klik dan hier!
Welke vervolgstappen kan jij nemen?
Heb je vragen omtrent het instellen van Homestats of besluit je stappen te nemen op de woningmarkt, zoals het verkopen van de woning en/of het kopen van een nieuwe woning. Neem dan gerust contact met ons op. Binnen een aanvullend gesprek kunnen we kijken welke stappen op de woningmarkt er voor jouw mogelijk zijn. We helpen je graag. Van een Garantiemakelaar mag je meer verwachten!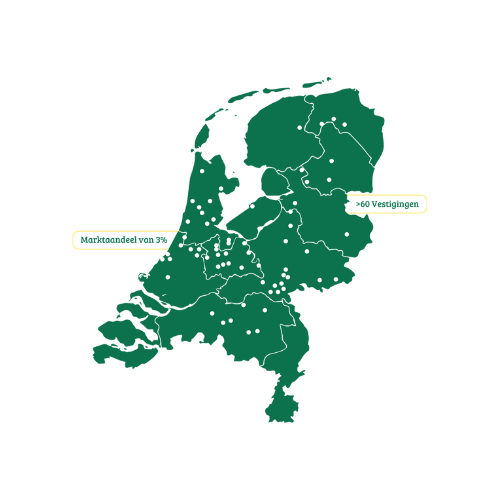 Garantiemakelaars Nederland

Met meer dan 50 makelaarskantoren altijd een expert bij jou in de buurt!
Garantiemakelaars is een landelijk opererend netwerk van makelaarskantoren. Met meer dan 50 makelaarskantoren zijn wij een van de grotere makelaarsorganisaties van Nederland. Hierdoor is er altijd een Garantiemakelaars kantoor bij jou in de buurt! Zaken doen met een Garantiemakelaar is zaken doen met een expert. Dit zal je terug zien binnen jouw eigen Homestats woningportaal. Neem contact op met jouw lokale expert bij het realiseren van stappen op de woningmarkt. We helpen je graag. Van een Garantiemakelaar mag je meer verwachten.